Naming Contest
For Our New
Short-Eared Owl!
Help us choose a name for our new short-eared owl.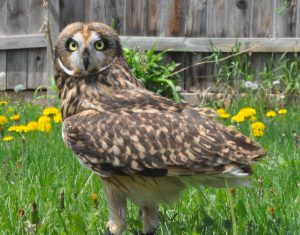 Our female owl came to us from Montana on April 12, 2016. The bird was hatched in a nest on the ground in the summer of 2015, and her parents were killed by a haying mower. She and her nest mates were taken to the Montana Raptor Conservation Center in Bozeman. Unfortunately, they all became sexually imprinted on humans. None of the young birds could be returned to the wild.
She has already given programs for her adoring audiences. The names were submitted by the volunteers of the Black Hills Raptor Center. We chose the best 9 for you to vote on.
The proceeds from this contest will be used to buy food for the owl. She prefers to eat mice, and each domestically raised mouse costs us 95 cents. She needs 2-3 mice a day. We do also offer her chicken, rabbit and rat, but mice are always her first choice.
How does it work?
Each vote will cost $1.00.  At the bottom of the page click on the tab with the name you like best. Then click on Vote Here and scroll down to your shopping cart to choose the number of votes you want, and to pay for your votes. Remember each $1.00 is ONE vote.
You can vote as many times as you like for the length of the contest. The selection that receives the most votes will be her name.
We will keep our FaceBook page and website updated throughout the contest.
The contest runs from June 23 to July 13, 2016. Once the votes are tallied, we will announce her new name on July 15, 2016!
---
LIST OF OWL NAMES
Scroll below list to VOTE

---
1. Iná (ee ny ə) Lakota word for mother
2. Sage
3. Bluestem
4. Wol (Winnie the Pooh's wisest owl in the 100 Acre Woods)
5. Pasque
6. Ruby
7. Eos (the Greek goddess of the dawn. She rises each morning from her home at the edge of Oceanus. She is typically illustrated with wings on her back.)
8. Olivia the Owl
9. Prairie
---