Wednesday past was the day Icarus was to get his new "furniture" in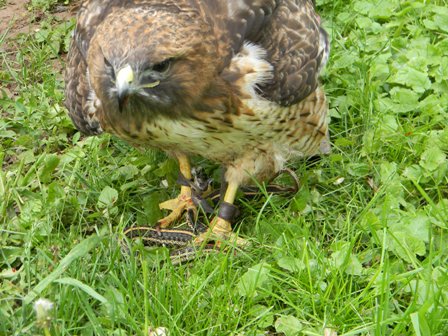 his mew. His installation got overshadowed by a western garter snake that crawled into Elise's pen.
We found the snake curled up next to Icarus' bath pan. John picked up the critter and set it down in the grass close to the outside of Elise's mew. She went on high alert.
John kept watching while I ran for the camera in the house. When I came out the snake had moved into the mew, and she was on it. Good thing John was around; I don't think I could have taken the photos. I am not that much of a snake charmer!
Elise killed the prey and proceeded to eat it. All of it. Scrapping the mews the next morning, John only found about 4″ of vertebrae remaining.
I wonder how many more snakes will be consumed before summer is over?