The Black Hills Raptor Center idea was hatched (pun intended) a year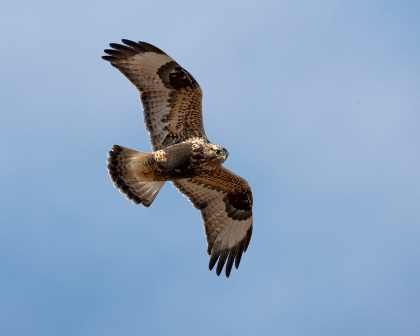 ago this month. We have been very careful with our funding and it has paid off – we continue to run in the black!
John ran the birds out to Aberdeen, SD for the Water Festival and to visit with the kids at May Overby Elementary School. The kids were great and the birds were a big success. A big thanks to all the kids of Aberdeen that welcomed us and asked such great questions!
Some of you may have received a letter in the mail recently. With all the programs we've done many of the people in the audience have seen the birds several times. It's time for us to add a new member to the Education Team and we are raising the funds necessary to bring in a rough-legged hawk.
"Roughies", as many birders call them, are winter visitors to South Dakota. They come down from the high latitudes of Canada to spend their winters in the balmy, sunny south…if you can call it that! They are similar to red-tailed hawks in some ways but can be distinguished by their dark bibs on the breast and black patches midway out on each wing. They are keen hunters of rats, mice, and other small mammals.
Please consider making a contribution to the Black Hills Raptor Center today to help us raise the $1,800 necessary to feed, house, and care for this bird. Elise, the red-tail hawk, wants you to know that after 25 years she could use a few breaks in the program schedule!
Photo credit goes to Doug Backlund, Pierre SD. Thanks, Doug